Component "Sub Navigation" has no content
2021-03-24T00:00:00
Prevent Transit Damage With Protective Packaging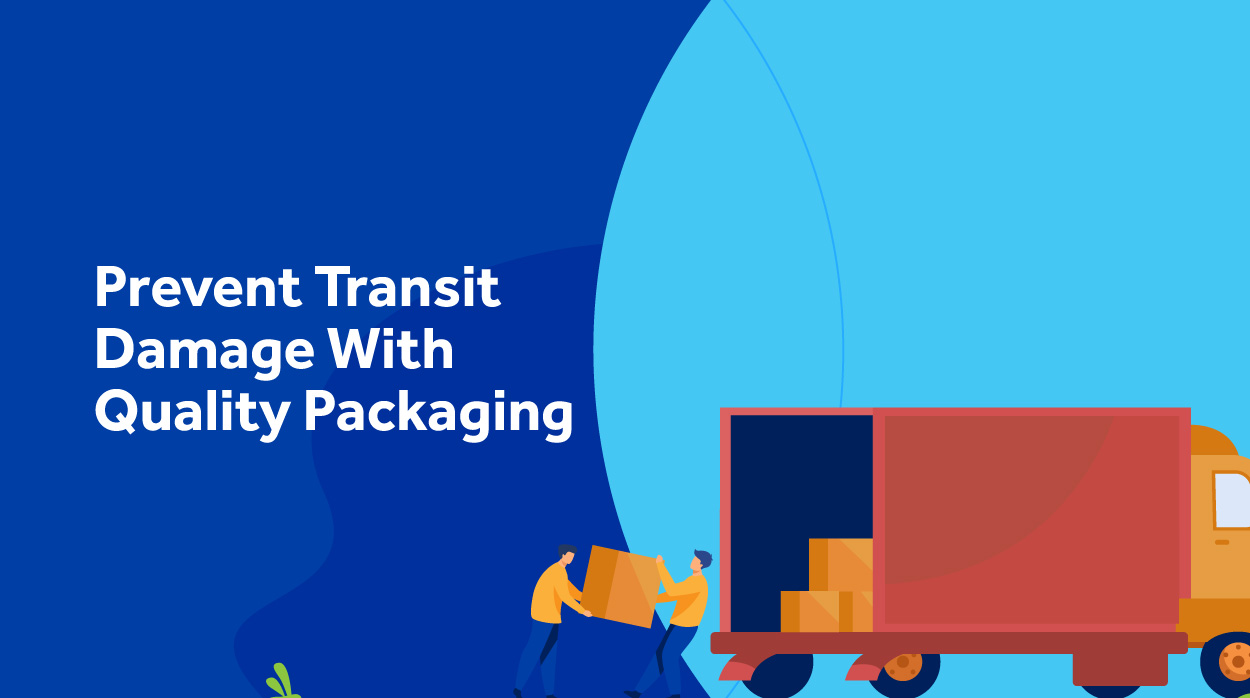 Product damage during transit and delivery is probably one of the most overlooked factors affecting your business. Recent figures show that 'as much as 11% of unit loads arriving at a distribution centre have some level of case damage' (PackagingDigest).

Not only do the costs incurred in returns and replacements have an impact on the bottom line, product damage can have a significant negative effect on customer relationships.

The consequences of this can lead to poor brand perception, and can greatly reduce the likelihood of establishing long-term relationships with customers and the encouragement of repeat purchases.
Find out more:
What causes damage to goods during delivery?
Damage to goods during delivery can occur for many different reasons as products navigate through varying rigors of transit:
Repeat handling – from the warehouse to the quality of courier service that are fulfilling your deliveries.
Poor pallet or load instability can result in damages during transit.
Prolonged vibration or sudden impact, i.e. road conditions, sharp vehicle braking or cornering that can result in crushing or abrasion of the packaging and the packaged goods.
Poor design. If a box has been poorly designed (or opting for a one size fits all approach for all goods), it can cause excess migration and play to occur between products, product packaging and the outer transit packaging. This can lead to damages to the finished quality of the box surfaces and may even result in damage to the products themselves.
Brand impact
Even having to a write-off a seemingly inconsequential percentage of the goods you deliver can result in significant costs in the long-run.

Not only do you have to consider the costs of the goods, but also the administration and operational work that is required to process the returns, customer complaints and re-delivery.

A string of poor deliveries can also negatively impact customer relationships, as trust diminishes and frustrations increase, it can soon start to affect brand reputation, leading to a drop in sales. On the other side, a good relationship between brand and customer can encourage brand loyalty, referrals, and in turn increase the likelihood of repeat purchasing.
Achieve cost savings with better quality packaging
The infographic below indicates how costly damage during transit can be, and the savings that can be made by investing in quality bespoke packaging.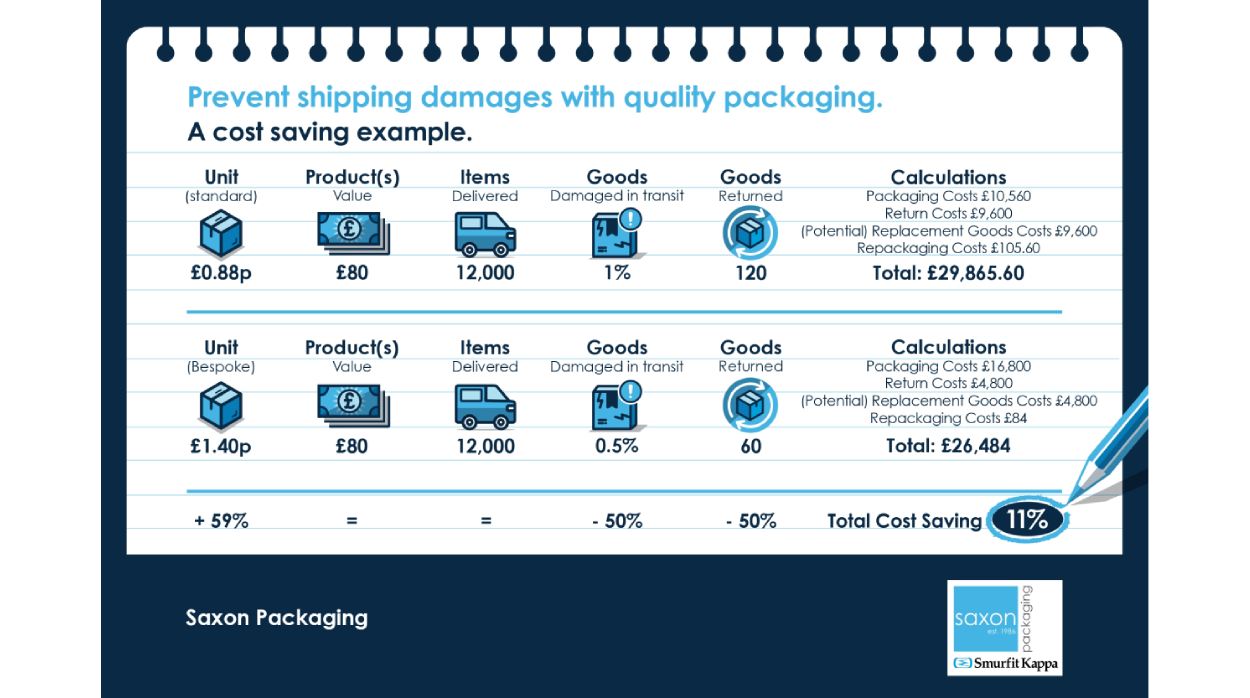 How Saxon Packaging can improve the performance of packaging
Since our establishment in 1986, we (Saxon Packaging) have worked with many businesses who have experienced issues with damaged goods during transit and have assisted them with developing packaging solutions to solve this.
Our in-house design team are highly skilled in auditing existing packaging. We can examine your product, analyse existing evidence of product damages, positioning, substrate and print requirements as part of the design process for your packaging to enable us to determine and create an optimised bespoke packaging solution that is right for you and your customers.

Remember that it's not just about the board material grade. Whilst board quality does indeed play a key role in the structural integrity of a corrugated box, simply choosing to upgrade the existing packaging design with a thicker fluting won't necessarily solve the issue.
Often it is far more beneficial to create bespoke packaging (fit-for-purpose) that utilises less material, offering better performance of product protections, whilst also being more cost-effective and more efficient in storage space required.
Evaluation and innovation are key areas to help progress our customer's requirements. We continually strive to seek the best packaging solution for our customers to ensure packaging performance is met, costs are kept to a minimum and an end result that we are proud to have manufactured.
Conclusion
Are you experiencing a lot of transit or shipping damage in your business? Our free (no obligation) packaging audit can help you understand why and what you can do to prevent it. Click here to request a call back.
Key Benefits of transport damage free packaging
Product damage during delivery can be significantly reduced
Helps to maintain brand identity, build on customer relationships and encourage repeat sales
Decreasing product damage during transit reduces costs that may be incurred through replacements/returns/administration
Packaging can be made bespoke to suit individual products, applications and modes of transport